Weather outlook: Highs in the low to mid teens with lows sub-zero in the early morning through the week. Chance of mid-week snow. CLICK HERE FOR FULL REPORT. 
Montana

Madison (Hebgen Dam-Ennis) 

Hebgen Dam Flows: 911 cfs



Hebgen Dam Water Temps: 40F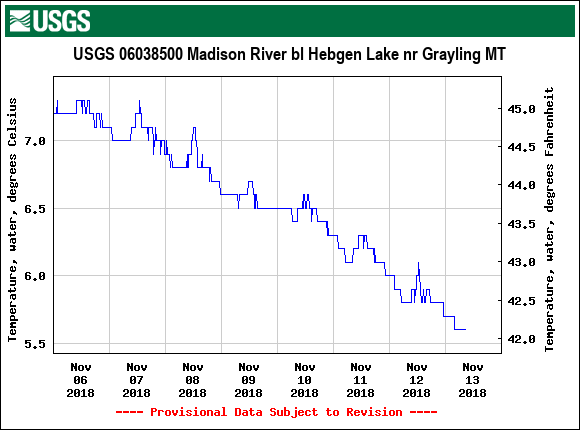 Madison @ Kirby Flows: 1030 cfs



Madison @ Kirby Water Temps: Lows to 38F, Highs to 40F

Fishing activity has picked up on the Upper Madison and between the lakes due to the closure of the Park last week. Nymphing will be most consistent, but there has been some good dry fly fishing to be had as well. Look for fish rising to midges and baetis in the slicks, especially as we get some cloudy skies throughout the remainder of the week.


Between the Lakes 
Fishing has been consistent lately here with the possibility of catching some fall run lake trout. Nymphing has been the best way of getting fish to the net with patterns such as Sili Legs, San Juan worms, and smaller midge and baetis patterns. Throwing a streamer around can be a really good way to locate some of the larger fish in this stretch as well. 

Wade Section 

Lately there have been fewer fisherman here than between the lakes but the fishing has been pretty darn good.  Again nymphing is your best bet but we've been seeing some risers on overcast days.  Also it never hurts to throw some streamers and see if you can get a larger fish to chase it.
Flies: #16-18 Red Neck, #16 Olive Biot Czech, #18 Shop Vac, #18 Guide Dip, #16-18 Green Machine, #18 Black Krystal Dip, #16-18 ICU Midge, #16-18 Black/Green Lightning Bug, #18-20 Zebra Midge, #6-10 Sili Legs, #6 Montana Mouth Wash, #6 Kreelex
We are now booking trips for the 2019 season.
Be sure to make your reservations early to ensure you can book the guide you want.

GREAT PRICES ON GREAT GIFTS



Our annual fall sale is going on now.  Save up to 40% on select waders, wading boots, fly rods and clothing. 
Yellowstone National Park
Closed to Fishing for the season
---
---
Leave a comment
Comments will be approved before showing up.